09 Days - 08 Nights
Delhi - CORBETT - LOHACHOR - ATWADHAP - HALDUPURA - CORBETT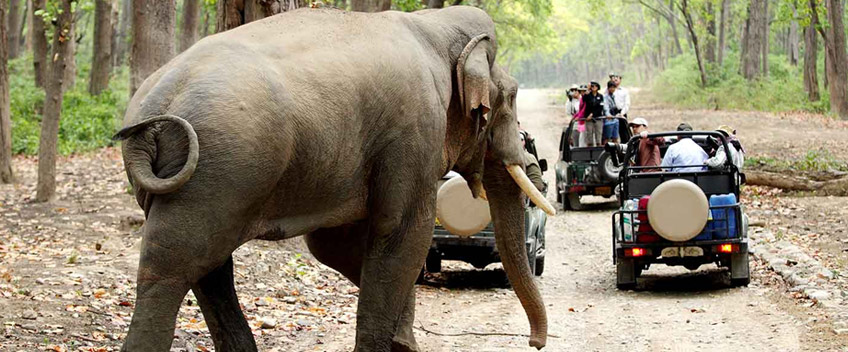 Tour Itinerary
01 Day 01 : Arrive Delhi
Once you reach Delhi we will drive you to the hotel where you need to stay and relax for the rest of the day.

02 Day 02 : Delhi
After breakfast, We will take you on an outing in the Indian capital, which is the home of outstanding attractions that includes historic memorials, heritage constructions, ancient mosques and a few more locations. The India Gate, Red Fort, Laxmi Narayan Temple are some of the locations which you can see the whole day. You can rest at a hotel in the night after spending a beautiful day in the city.

03 Day 03 : Delhi - Corbett
After breakfast, leave for Jim Corbett. You will reach Jim Corbett National Park after a pleasant drive and check in the hotel where you need to stay for the night. After lunch you will be taken for a jeep ride into the jungle and then dropped at hotel for dinner and doze off there.

04 Day 04 : Corbett - Lohachor
By travelling for half an hour in the morning around 6:30 you will be reaching to Durga Devi and can ride on the back of elephants with lunch packed. After the fascinating ride by hoping on the Indian elephant for 15 kms will be an unforgettable experience of the day and you will reach Lohachor for dinner and sleep in the hotel.

05 Day 05 : Lohachor - Ratwadhap
By 6:30 in the morning you will move ahead to for an elephant safari by completing your first meal and carrying lunch. You will reach Ratwadhap by afternoon and spend the rest of the day.

06 Day 06 : Ratwadhap - Haldupura
You will arrive at Haldupura by the time of dinner after spending an outstanding day by riding the Indian elephants after completing your early meal around 6:30 in the morning.

07 Day 07 : Haldupura - Corbett
Depending on your wish you can see the beauty of the surroundings by taking an elephant ride or a jeep in the first hour and turn back to your room and fresh up to start your journey to Corbett. You will be dropped at a hotel for dinner and your overnight stay at Corbett.

08 Day 08 : Corbett - Delhi
You will reach a hotel in Delhi by starting in the morning and can spend some pleasant time by shopping before you complete your holiday. Pack your things and relax in the hotel overnight.

09 Day 09 : Corbett - Delhi
In the morning you will be reaching Delhi airport after completing your vacation and reach the desired destination by catching a flight.

Book Your Tour Now