18 Days - 17 Nights
Delhi - Pachewar - Bundi - Bijaipur - Udaipur - Dungarpur - Narlai - Luni - Ossian - Kuchaman - Nawalgarh - Jaipur - Agra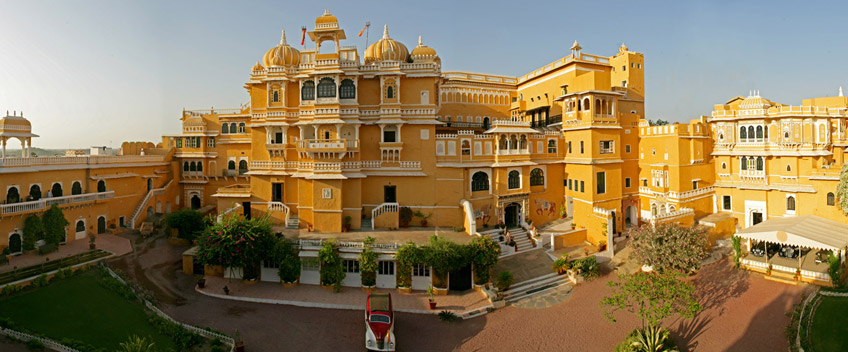 Tour Itinerary
01 Day 01 : Delhi Arrival
Arrive Delhi, meet assist at the airport and transfer to hotel. Night stay in Delhi.

02 Day 02 : Delhi
After a leisurely breakfast take a sightseeing tour of New Delhi where ornate buildings recall the Days when India was the Jewel in the crown of the British empire. Visit the 11th century Qutab Minar, India Gate and the grand government buildings, the President's House , Red fort , Mahatama Gandhi Memorial. Also visit Laxmi Narayan temple popularly known as Birla Temple. Night stay in Delhi.

03 Day 03 : Delhi - Pachewar
Morning transfer to railway station to board the train to Jaipur. Arrive and proceed by road to the small village of Pachewar and stay in the 300 years old fort. Night stay in Pachewar.

04 Day 04 : Pachewar - Bundi
Morning drive to Bundi. Arrive and check in to hotel. Later in the afternoon visit Hada Kingdom located in the saddle- like fold of the hills. Bundi is a beautifully located fortified settlement. Its fort and palaces are impressive especially for the delicacy and profusion of their architectural embellishments. Bundi is equally well known for its step wells as well as for its school of paintings. Night stay in Bundi.

05 Day 05 : Bundi - Bijaipur
Morning drive to Bijaipur, arrive & check in to hotel. Later in the afternoon visit the forests located 40 Kms from Chittorgarh this Sisodia principality is now more easily accessible and far less hostile to its visitors. Night stay in Bijapur.

06 Day 06 : Bijaipur - Udaipur
Morning after breakfast drive to Udaipur, arrive & check in to hotel. Night stay in Udaipur.

07 Day 07 : Udaipur
Spend the Day visiting the City Palace, Jagdish Temple, drive around Fatehsagar Lake, Shaelion Ki Bari (queen's resort for her friends) and Bhartiya Lok Kala Mandir (folk art museum). Night stay in Udaipur.

08 Day 08 : Udaipur - Dungarpur
Morning drive to Dungarpur, arrive & check in to hotel. Later in the afternoon visit deep in the heart of Bhil Country surrounded by hills. The house of Dungarpur was a 13th century hostile offshoot of Chittorgarh that later made peace with it. Off the beaten track, Dungarpur has two beautiful palaces whose architecture is worth exploring since they consist of every known embellishment used in the making of any building. Night stay in Dungarpur.

09 Day 09 : Dungarpur - Narlai
Morning drive to Narlai, arrive & check in to hotel. Later in the afternoon visit Narlai. Legend says that it was here that the sage Narad Muni meditated long before it was inhabited. Later it became a hunting preserve for theSisodias. Night stay in Narlai.

10 Day 10 : Narlai - Luni
After breakfast drive to Luni, arrive & check in to hotel. Later in the afternoon visit Luni River thathas provided a lifeline to dwellers in the desert, even though it has been a seasonal phenomenon and its floods in the past have wrought havoc. Night stay in Luni.

11 Day 11 : Luni
Spend the Day in sightseeing of Luni. Visit the Fort Chanwa. Luni built by the youngest son of Jodhpur's Maharaja Umaid Singh a hundred years ago, used large blocks of sandstone to create a handsome building and includes jharokhas and cupolas characteristic of the architecture of the region. The interiors are 19 rooms, serves Rajasthani cuisine and makes a delightful excursion into the idyllic world of a desert community. Night stay in Luni.

12 Day 12 : Luni - Ossian
After breakfast drive to Ossian, arrive & check in to hotel. Spend the afternoon in sightseeing of Ossian. An ancient town of the Thar Desert, renowned for a cluster of ruined Brahmanical and Jain Temples dating from 8th to 11th century. The most important temples are the Surya or Sun Temple and the Sachiya Mata Temple. The latter has a "Shikhar" clustered by a row of tarots an ambulatory and a large assembly hall with an elaborate ceiling. Night stay in Ossian.

13 Day 13 : Ossian - Kuchaman
After breakfast drive to Kuchaman, arrive Kuchaman & check in to hotel. Kuchaman is located in Nagaur District, Kuchaman Fort has had a strategic role to play in Rajasthan's history which unravels as one moves around its 17th century battlements. Its picturesque village is idyllic for those who would like to discover the charm of walking through it. Night stay in Kuchaman.

14 Day 14 : Kuchaman - Nawalgarh
After breakfast drive to Nawalgarh, arrive & check in to hotel. Later in the afternoon visit Nawalgarh, the seat of the Poddar families. Nawalgarh is known for the high quality of its paintings, even in the richly frescoed Shekhawati area its Poddar school has some excellent old work. Nawalgarh was founded in 1737 by Thakur Nawal Singh, a warrior- statesman. Evening visit Mandawa, Dundlod. The Mandawa Castle is one of the finest castle of Rajasthan, is now a beautiful hotel and it has beautiful frescoes, Havelis & mansions. Night stay in Nawalgarh.

15 Day 15 : Nawalgarh - Jaipur
After breakfast drive to Jaipur. Arrive and check in to hotel. Later in the afternoon visit the local markets. Night stay in Jaipur.

16 Day 16 : Jaipur
After a leisurely breakfast , visit the majestic Amber Fort, is one that cannot be easily described. Ride up on Elephants to the former capital of the royals set against the backdrop of the wooded hills. Later visit the City Palace, Palace of Winds also known as Hawa Mahal, this elaborate building, now little more than a facade, is encrusted with delicate screen sand carved balconies from which the royal ladies, confined to their quarters, could sneak views of the outside world. Past, present and future merge at Jai Singh's observatory, where time has been accurately measured since the 17th century. Evening enjoy dinner at Chokhi dhani (an ethnic village resort) where you will have an idea of the village life of Rajasthan here you will also enjoy various traditional Rajasthani dances, puppet show and various other interesting activities. Night stay in Jaipur.

17 Day 17 : Jaipur - Agra
After breakfast drive to Agra, home to the Taj Mahal. En route visit Fatehpur Sikri, the deserted "ghost" capital of the Emperor Akbar with its beautifully preserved forts, palaces and mosques. Arrive Agra and check into your hotel. Visit the magnificent Taj Mahal built by the Emperor Shah Jehan between 1631 and 1653 as an expression of his love for his Queen Mumtaz Mahal. Night stay in Agra.

18 Day 18 : Agra - Delhi
Early morning at sunrise visit the magnificient Taj Mahal - one of the seven wonders of the world surely the most extravagant expression of love ever created. 20,000 men laboured for over 17 years to build this memorial to Shah Jahan's beloved wife. Visit Red Fort also. After lunch drive to Delhi via Arrive and trnsfer to airport for onward journey.

19 NOTE:
The above itinerary is a suggested one. It can be customized as per your interests and preferences. More cities can be added in the package as per your comfort. The sequence provided can be flexible.

Book Your Tour Now